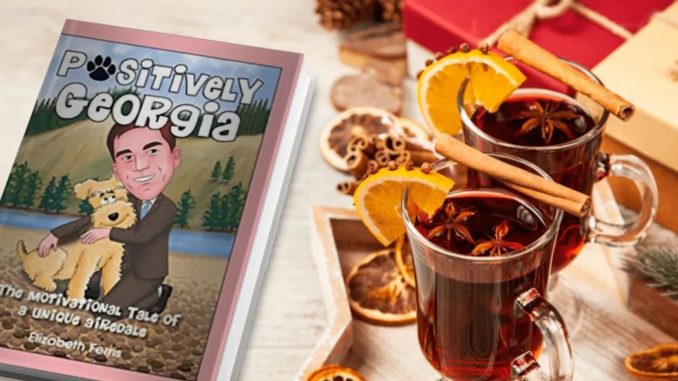 Parents – Are you looking for a children's book with a REAL message of motivation and encouragement?
Look no more. Author Elizabeth Ferris has now created that book.
Positively Georgia, the Motivational Tale of a Unique Airedale, is a Canadian book Published December 10, 2019.
Ever wonder what your dog is thinking? This dog, a female , 'big-boned" ten-year-old terrier is pretty wise and really shares helpful, inspiring thoughts to get the reader thinking about life, connections and our own internal voice. The reader will be educated and learn that how we talk to our own self really determines how our day will go.
The original colorful illustrations are refreshing. A warm pink feeling is carried throughout the 42 pages. From flowers, to a castle, pink tractor wheels, and color music notes each page tells a story that invites the reader to let their own mind daydream.
The stories are simply written to appeal to young readers, however the words are notable for providing insights into human behaviour.
The main character Georgia has a special bond with her owner Norman. They travel together on many adventures in person and within Georgia's daydreams.
Additional characters include Sasha-Patrice, a cute little girl, Rodger the Horse, and a little dog named Jake.
Through Georgia's interactions with these characters, Children and Adults learn they can achieve remarkable things, share their unique talents with others, and live far happier and more fulfilling life. It all starts with believing in their own abilities. We should all be like Georgia.
We look forward to additional creations from Author Elizabeth Ferris as she continues with the Positively Georgia series for many years to come.
Get your copy of this wonderful insightful book, Positively Georgia on Amazon today,
www.amazon.com/gp/product/1989756077
More information about the author can be found at https://ferrisbooks.com/about-us