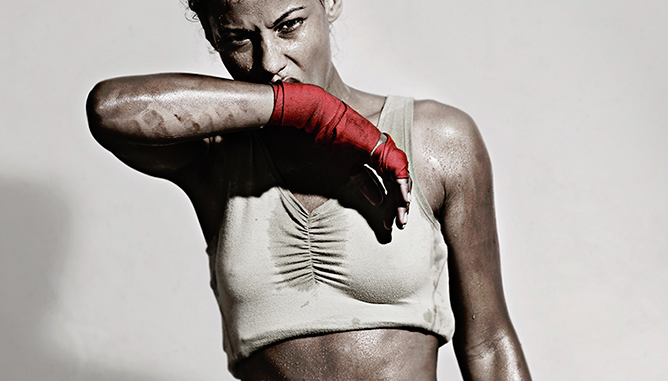 Being on an weight loss journey can be a real struggle. Staying motivated and determined is always key to it all. You're working hard to get your body pumping and toned up in all the right places. This is an amazing change you can make within yourself and your health. Well for me, it's been more like a passion than a struggle. It feels so good to workout and burn off those calories packed on by fat. What other way to workout and feel like you have accomplished something in such a short period of time. Shaun T (Cize), an amazing program that you'll never want to miss out on.
Let's Cize It Up With Shaun T
Shaun T couldn't have created a more wonderful and amazing workout program. This exercise is so intense sometimes I find myself giving in between the workout session. When I say you get a full body workout, you going to burn some calories and feel it by the end of the exercise. This is what I love most about it. Cize is an workout and dance all in one.
Don't worry whether or not you can dance along and keep up with Shaun T because he breaks it all down for you step by step. You're going to love it and have fun while working out and losing weight at the same time. Push aside the jumping jacks, push ups, weight lifting, and sit-ups. Cize is going to dominate all of this and work you out entirely.
Let's Work It Out
Shaun T has several workout exercises in his Cize program to name only a few. None of these dances/workouts require equipments but does require weighted wristbands. Let's dance and work those abs! The exercises are as follows:
Crazy 8s
8 Count Abs
Full Out
In The Pocket
Go For It
Livin In The 8s
Hold Your Own
Work Your Body
Own Every Move
Whilin Out
Sync It Up
and so much more……
Cize Workout DVD Collection
CIZE Dance Workout Base Kit – Shaun T
CIZE Dance Workout Deluxe Kit – Shaun T
Eat Right To Get That Body Toned And Tight
Of course, with any exercise you do whether it's walking, running, jogging, or attending an gym eating healthy is your main goal in losing weight. You can eat as healthy as you like on your own or you can eat it up with the Cize meal plan. The choice is yours to decide. Cize meal plan provides you with a guide full of recipes and surprisingly foods that you like just healthier.
Guess what! Chocolate is an option in the meal plan. There is also a 7 day Cize down low calorie menu on how to lose weight. It comes with a list on what you can eat daily for breakfast, lunch, snack, and dinner. You can never go wrong keeping track of what you eat at the price of healthiness.
Stay Determined And Motivated
Cize is a very intense exercise. However, don't let that startle you. Keep a good mind set. This is what going to get you through it all. Trust me, I have to constantly remind myself on striving through my weight loss journey and giving it my all. Cize can really kick your butt. How bad do you really want to lose weight? What is your weight loss goal? Any weight loss goal is most definetly achievable to any degree. Jump into this exercise with the intent to lose weight and get toned. Don't have no doubt in mind. If you can do this then you're well on your way to a new and fit you.
An Inside Look At Results From Cize…..It Works!
Cize replaces the gym for many people. In my opinion it's a lot better working out from the comfort of your own home. You're getting a full body workout. Shaun T gives you a good rundown on how his program works and how effective it can be as long you stay focused. Take a look at a few people who are succeeding with Cize.
Final Say
You'll be amazed at the results you can get from Cize. Everything Shaun T offers in this program is dynamic. I just want you to know that the results does vary. Everyone doesn't dedicate their time and energy to an intense workout like Cize. With time and consistency, the results can be astonishing. Anyone can workout with Cize young, old, kids, men, and even women. You will be shocked to see how many people in this program that are beginners and seeing results after 30 days.
Many of you are probably curious in wanting to know how long after exercising will you see a change in weight. Well, if you're working out following a diet and consistent with the Cize workout schedule, you're going to see weight loss after 30 days or right at it. It's possible you guys to lose weight with Cize. Don't wait no longer! Get Cize Today! Get a sneak peak here on a Cize workout with Shaun T.